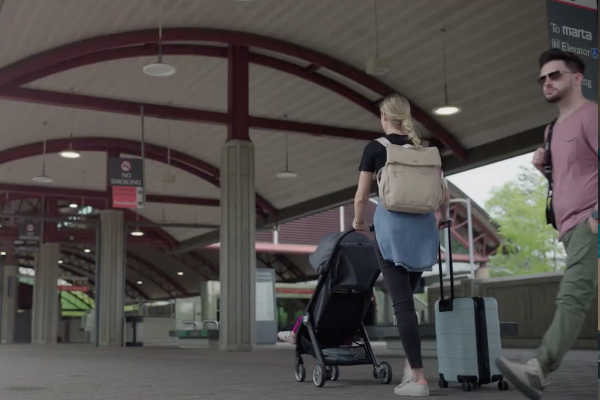 How to Choose the Perfect Travel Pram
There's nothing more exciting than heading off on a family holiday, but for new parents or parents with multiple young children it can also be a daunting especially when a plane trip is involved. One simple way to take the stress out of travelling with an infant is to invest in a reliable travel pram that's lightweight, easy to fold and most importantly safe and comfortable for your little one. Baby Jogger's City Tour 2 is the ultimate travel stroller that is guaranteed to make all of your family adventures a breeze. If you have been searching for the perfect travel pram, here are some things you should look out for to make sure you choose one that will be sure to go the distance.  
The Lighter, The Better
Gone are the days of travelling with hand luggage only, when holiday with a baby you almost need to pack everything but the kitchen sink (and even that might come in handy on some trips!). Juggling suitcases, backpacks, toys, a port-a-cot and all your other baby goods is exhausting. Whether your holiday involves flying, driving, hopping on and off trains or buses, or in and out of taxis, you need a pram that is super lightweight so that it can easily be lifted in and out of tight spaces and even thrown over your shoulder when not in use. To find a lightweight pram/stroller, look for one that weighs 7kg or less for easy carrying.
A Full Recline
Holidays will often involve naps on the go, so it's important that your travel pram reclines fully to allow bubs to sleep soundly when out and about and if you have a newborn, a flat surface is absolutely essential. Many compact strollers aren't suitable for newborns and have limited recline options, so look for a compact pram/stroller that lies back completely to allow for comfortable snoozing.
Generous Sun Protection
Whether you like holidaying by the beach or prefer a city adventure, it's likely you'll encounter large amounts of sunshine during your getaway. Little ones have delicate skin that needs a high level of sun protection to keep them cool and safe from sunburn. While many travel prams fold up into neat little bundles, many of them sacrifice on shade. The best travel stroller will have a large canopy that can keep your baby or infant shaded, cool and comfortable even on those scorching hot days.
A Smooth Ride
Many ultra-compact foldable models have little wheels which can make for a rough ride for your baby. Make sure you take notice of the tyres and suspension before you select a travel pram. The tyres should be made from a lightweight yet durable rubber, wheels should swivel seamlessly and the suspension should provide a smooth and cosy ride.
An Easy and Compact Fold
There's nothing worse than wrestling with a pram to get it fold, especially when rushing from taxi to plane. Even some of the most lightweight travel strollers can be hard to collapse so make sure you choose a pram that includes an effortless one-hand folding system. This will make your pram easy to take anywhere, even whilst juggling all your other luggage. Additionally, your travel pram should fold to a small size, this is especially important if you intend to take your pram as cabin luggage on your flight.
For the Best Travel Pram, Choose Baby Jogger
Our range of ultra-compact and lightweight travel strollers fold down small and can be stored almost anywhere, so you can take baby along for every adventure. Loaded with features that optimise style, safety and comfort, you may even find that the Baby Jogger City Tour 2 becomes your go-to pram for everyday use, and not just saved for family holidays. Shop our range now or get in touch with us for more information.