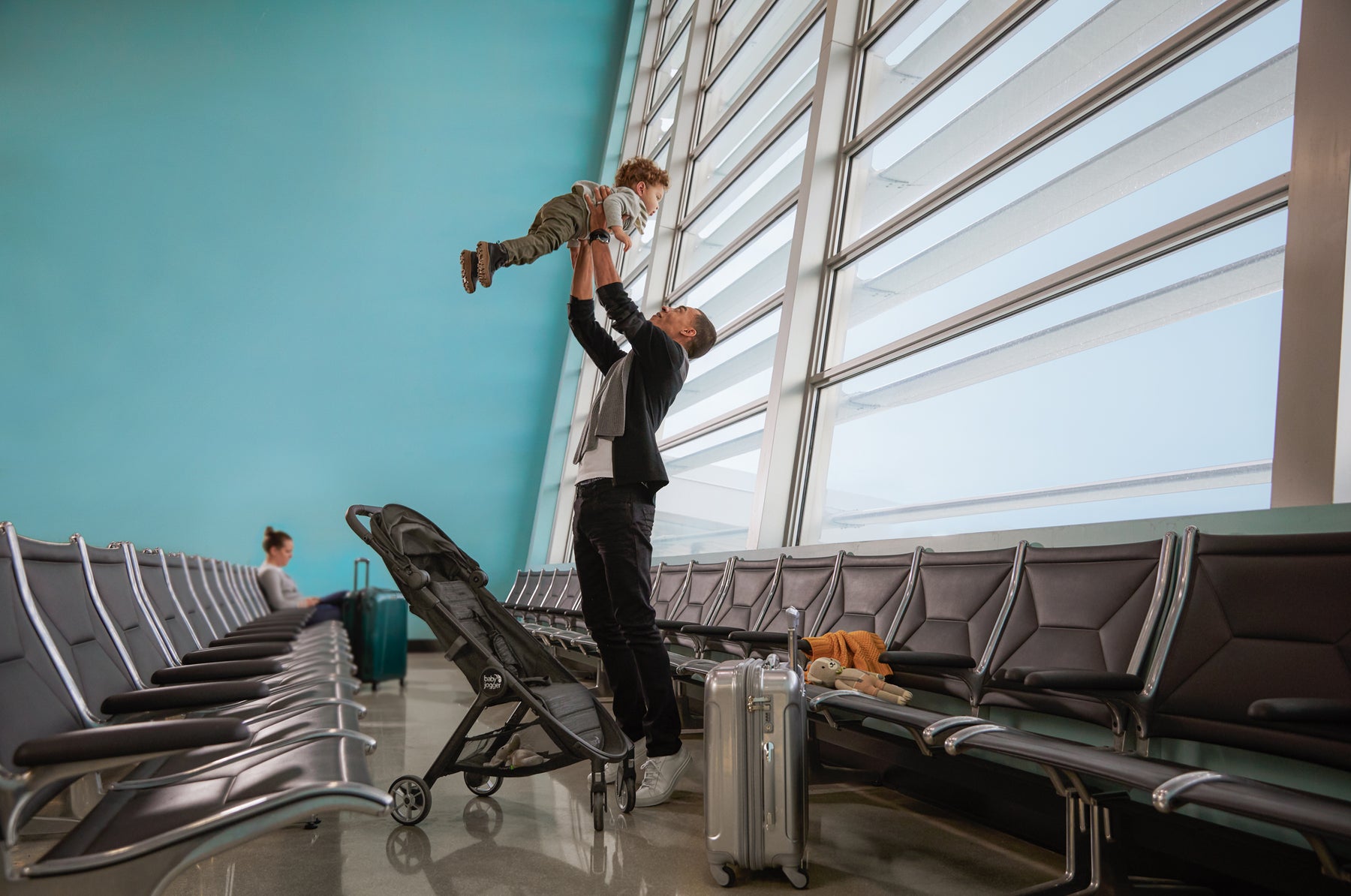 What prams can you take on a plane?
What to Look for When Buying Prams for Air Travel
Prams are great for getting around town and taking to the park. Especially with your new baby and all the things you need to carry along. A big pram for every day walks makes sense!
However, they're not always ideal for aeroplane travel. They can be heavy, bulky and not always compatible enough for travelling.
That's where travel strollers come in! They are specifically designed for travelling with infants in tow. Also, many families buy a travel pram for a holiday and find they prefer using a more compact stroller for their everyday adventures as well!
Best Strollers for Air Travel
When choosing a stroller for air travel, there are many factors to consider. Here's what to look for when buying the best air travel prams:
Weight. Lightweight strollers are essential for air travel as airlines will have weight limits if your bringing your stroller onboard as carry-on luggage.
Size. When choosing your travel stroller the folded dimensions will determine whether it's suitable for air travel, as airlines will have strict guidelines not just the overall folded size but that it means their carry on dimensions.
Easy to Fold. It's all well and good to have the most lightweight stroller with a super compact fold – but if you can't fold it quickly while also preparing to board it may not the best travel stroller for you!
One-handed use. Speaking of ensuring your travel stroller is easy to fold you want to think about how many hands you'll have available to manage your bags, your stroller, your boarding passes as well your little one!
NOTE: Every airline will have different allowances for your stroller's weight as well as folded dimensions, this can also vary between domestic and international travel – so well worth checking with your airline before you travel.
Best Strollers for Road Trips
If you're traveling by car, train or bus you won't have quite as strict size and weight limits as you would if travelling by plane. However, you still want to take these into account with how much space your compact pram will take up in your available luggage space. As well as how heavy the travel stroller is for carrying around.
Though you might have a bit more flexibility to choose a compact pram that's a bit more all-terrain or offers some more features, provided you can find a spot for it in your car or luggage!
Baby Jogger city tour 2
The Baby Jogger city tour 2 is a lightweight, ultra-compact travel stroller. The Baby Jogger city tour 2 comes with a carry bag and folds easily with just one hand, making it the perfect travel companion.
This award-winning travel stroller is one of very few ultra-compact strollers that is newborn-ready with a full recline and features a built-in adjustable calf support. As well as the seat being suitable from newborn the city tour 2 offers newborn options of a bassinet or car capsule (sold separately) for a complete travel solution.
It also has a generously sized UV50+ canopy with a mesh peek-a-boo window, plenty of airflow through the back when seat when fully reclined and will accommodate a tall toddler despite its overall lightweight design.
Baby Jogger's city mini GT2
The city mini GT2 is a great solution for those looking for a travel pram for road or rail travel. The all-terrain tyres ensure you can tackle every surface on your adventures, and the flat fold the city mini GT2 means it can be slipped into a tight space in your car!
Although if you're traveling by place the city mini GT2 cannot be taken as carry-on luggage as it weighs 10kgs. However, you can take it as checked luggage with the universal carry bag. Many airlines do allow you to bring items such as pram or car seat when travelling with an infant outside your normal luggage allowance.
The city mini GT2 can carry up to can carry up to 29.5 kg in the extra tall, padded seat with plenty of room to grow under the canopy for even the tallest toddlers. It comes with an adjustable footrest, so your little one can rest their feet while they enjoy the ride. While the extra-large canopy also protects your baby from the sun or rain.
Just like the city tour 2 this more all-terrain travel option has optional bassinet or car capsule sold separately for your little one, as well as the full recline for newborns or naps. 
Choosing your perfect travel pram
When planning to travel with your baby you want to make sure that your travel pram is convenient, easy to use and meets your travel requirements.
Whether you choose the Baby Jogger city tour 2 because it's light, compact and easy to fold. Or you opt for something a bit more all-terrain to enjoy a smoother ride at your destination, Baby Jogger prams are focused on providing the ultimate comfort and safety for the baby and convenience for parents.