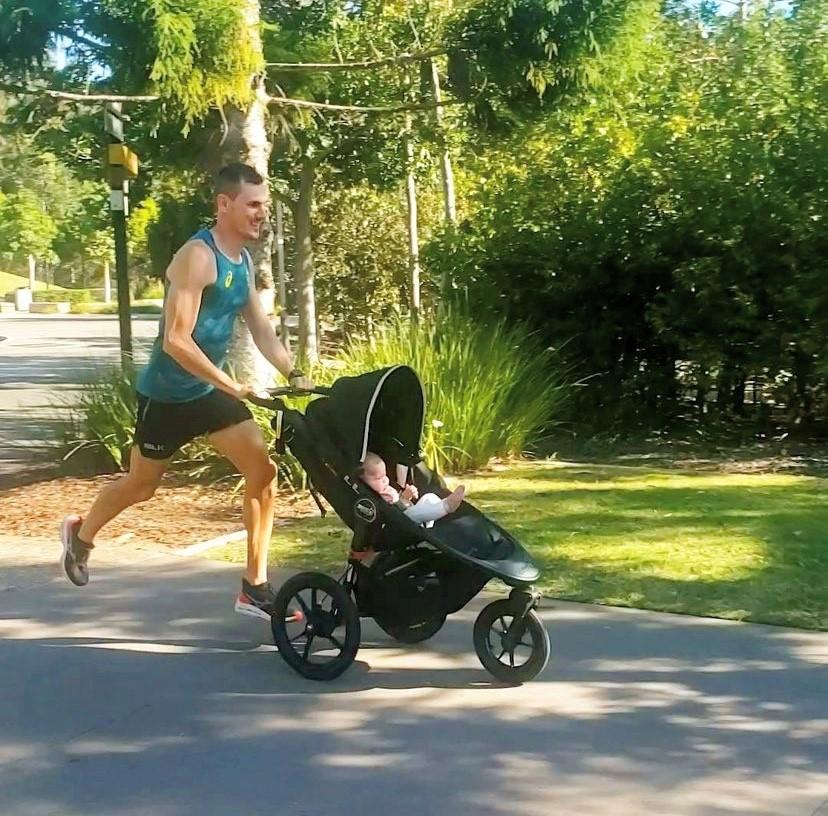 Interview with Australian Olympian, Dane Bird-Smith
We were delighted to catch up with Australian Olympian and Baby Jogger owner, Dane Bird-Smith who shared his tips for being active with little ones, as well as his favourite running and walking tracks in Australia.
Q. Tell us a bit about yourself and your family?
A. I was born and raised in Brisbane and I just love our river city. My wife is from England and I managed to convert her to the Aussie lifestyle with the help of Tim Tams, Ginger Beer and sunshine. We had our first baby in December 2020, our daughter Astrid, or little Squeaky as we call her, is definitely an outdoors and active baby so we have our hands full.
Q. Which Baby Jogger stroller do you have?
A. We have the Summit X3; it's a fantastic jogger that allows me to take my little girl along with me for some training sessions as I prepare for the Olympics.
Q. Why did you pick this stroller?
A. It had some great reviews from other mums and as I've learned once you're a parent there is no more sugar coating, it is how it is, so with the praise I heard for Baby Jogger it was an easy decision.
Q. What do you love most about the Summit X3?
A. The smoothness of the ride is a huge plus; even at high speeds like a 40minute 10km Astrid has found herself nodding off quite comfortably. I get a ton of confidence from the control I feel and with the secure straps my daughter absolutely loves it. The lock mechanism for the front wheel is an awesome next level for when you know there is nothing but path ahead, but as I have been learning the free wheel option gives me great responsiveness.
Q. Tell us a little bit about your racewalking career?
A. I started racewalking in high school, and I finished 3rd in my first ever school race out of 3 competitors. But it was something I enjoyed as a challenge and so I continued to pursue it. Along the way I fell in love and became an Australian Olympian earning Bronze at the 2016 Rio Olympics and winning Gold at the 2018 Commonwealth games.
Q. What have been your career highlights to date?
A. As corny as it might sound the Journey is my real highlight. Medals and races are fantastic and I'm a driven competitor but each and every day I wake up with intent to push myself as far as I can go. The team of people who share this dream with me and support me along the way are where my fondest memories are made.
Q. Tell us a little bit about your training regime?
A. I train around 140km a week of Racewalking and throw a few kms running in too. With the Summit X3 I am confident taking bub out for a 10km recover run or some of my easier walking kms. It's awesome to have her along on the journey with me now!
Q. It must have been a very tough decision to withdraw from this year's Olympic Games, tell us a little bit about this and why you made this decision?
A. I was selected and on my way to Tokyo 2021 but withdrew last minute to remain with my wife and daughter as there was a serious medical concern. My childhood dream was to be an Olympian and race for Australia but after the birth of my daughter there is nothing on earth that would make me let go of her hand when she needs me. It was an incredibly painful decision in a way but I was immediately at peace once it was made, I know I have plenty more to come in my career but I want Astrid to always know family comes first.
Q. Favourite running/ walking tracks in Australia?
A. Brisbane river bikeway is my old reliable, all the way from Regatta into New Farm Park.
But my two most breathtaking tracks have been along Casuarina Beach in Darwin, as the sun sets behind the palm trees and red dirt the ocean is just unbelievable, it's also a fantastic getaway for lovers of warmth in the winter.
                 Image above via www.instagram.com/nightcliffmarkets
The second is literally a polar opposite - the crisp freshness of Tasmania. The Bruny Island main road across the famous Neck to Bruny Island has a gorgeous backdrop of Tassie mainland one side and never-ending sea.
                 Image above via www.instagram.com/brunyisland 
Q. Any tips for parents looking to be active with their children?
A. Getting active with the kids can seem difficult at first trying to organise everything in an already hectic world, but once you get into a routine, grab the basics and just get outside, you will love it, the kids will love it and it makes bedtime later so much easier!
Q. Lastly, any tips for anyone looking to start running/ training with their pram?
A. Start off slow and easy, take on short circuits so that the kids get comfortable in the pram and you get used to running without as much arm action (lookout Glutes!!)
Get some practise with the steering and handling before you go whizzing off with your precious cargo. I had some strange looks from people pushing a pram without a bub as though I was the ultimate forgetful father but I also hit a few corners and bumps, so I'm glad it was just me.
Thank you so much for your time today, Dane and we can't wait to see more of your adventures with Astrid and your Summit X3! 
For further information about the Summit X3, click here.