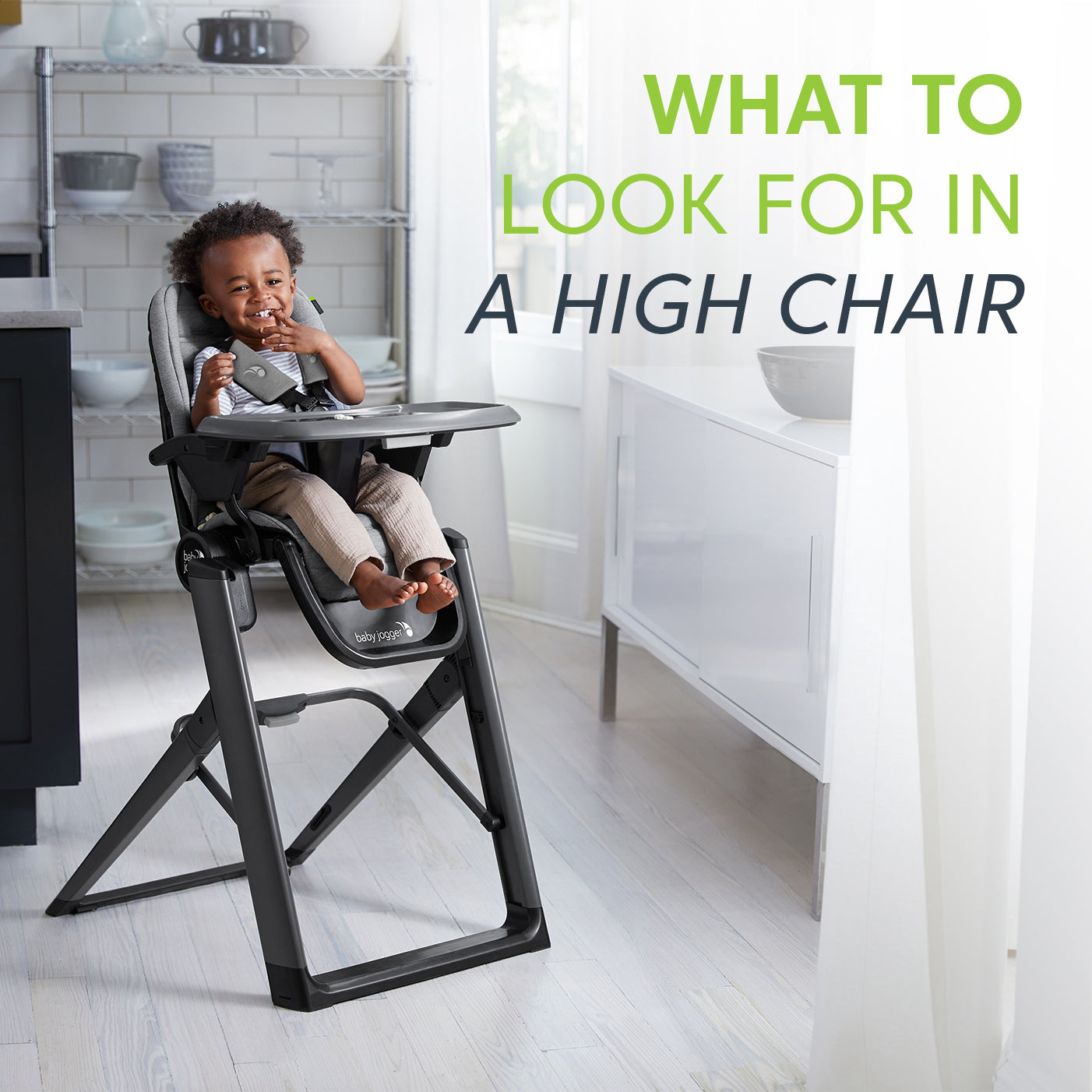 What to look for in a high chair?
Buying your first high chair is an exciting time. At last your little one can join you for family mealtimes! This is a memorable and rewarding step in your life as a family unit.
But with so many high chairs on the market, choosing the perfect product can be confusing. We have put together this guide to what to look for in a high chair, covering all the key features a high chair should have, to help you make an informed decision.
1. Your baby's safety and health
As a parent, the safety of your child is always your main concern. This should be the first thing you consider when choosing a high chair. A safe high chair will have a secure seat with the correct straps and buckles, to make sure your child can't fall out. It should also be able to grow and adjust with your child, so they have enough room to feel comfortable for as long as they need to use a high chair.
The Baby Jogger city Bistro High Chair has a built-in five-point harness, designed to keep your baby completely safe while they eat. It is suitable for babies from six months old up to a weight of 18kg, taking care of their comfort.
It is also important to consider Covid-19 at present. In these times, it is much safer to buy a new high chair rather than second-hand if you want to make sure you're protecting your baby's health.
2. Lightweight and adjustable
Your family might not eat in the same place all the time. Some evenings you might be at the dinner table, others at the counter. There might even be times when you need to transport the high chair to someone else's home to eat.
For these reasons, you need a high chair which is lightweight and adjustable, so it can easily be moved to any location. The city Bistro High Chair weighs just 6.9kg, so it's easy to move and transport. In addition, it has four adjustable height positions, so your baby can take part in all family meals, wherever they're happening!
3. Storage and placement in the home
When you have a baby, space in the home is at a premium. This is why you need a high chair which can easily be folded and stored, taking up minimal space when not in use.
The city Bistro High Chair has been designed with these issues in mind. It's the most compact foldable high chair on the market, reducing its footprint by 80 per cent when folded. It can be folded down in just two easy steps, and is also free-standing when folded, so it can be stored anywhere.
The clippable tray fits neatly onto the back of the high chair when folded, and there are no other pieces to worry about, so nothing can get lost!
4. Easy to keep clean
As a new parent, you want to spend time enjoying life with your baby rather than constantly cleaning up after them – you already have enough of that to do! You need to look for a high chair which is easy to keep clean, so those inevitable spillages don't take up all your free time.
Thankfully, the city Bistro is an extremely easy high chair to keep clean. The seat pad is removable and made from stain-resistant, machine-washable fabrics. You can simply pop it in the washing machine after each meal! The tray insert is also removable and completely dishwasher-safe. This ease of cleaning will save you plenty of time and make life with your baby more fun!
Conclusion
There are a lot of things to think about when choosing the perfect high chair. But if you look for these key elements, you will find a chair which grows with your child and continues to meet all your needs.
If you would like more information about the city Bistro High Chair or any other Baby Jogger products, please contact us. We are always happy to help.