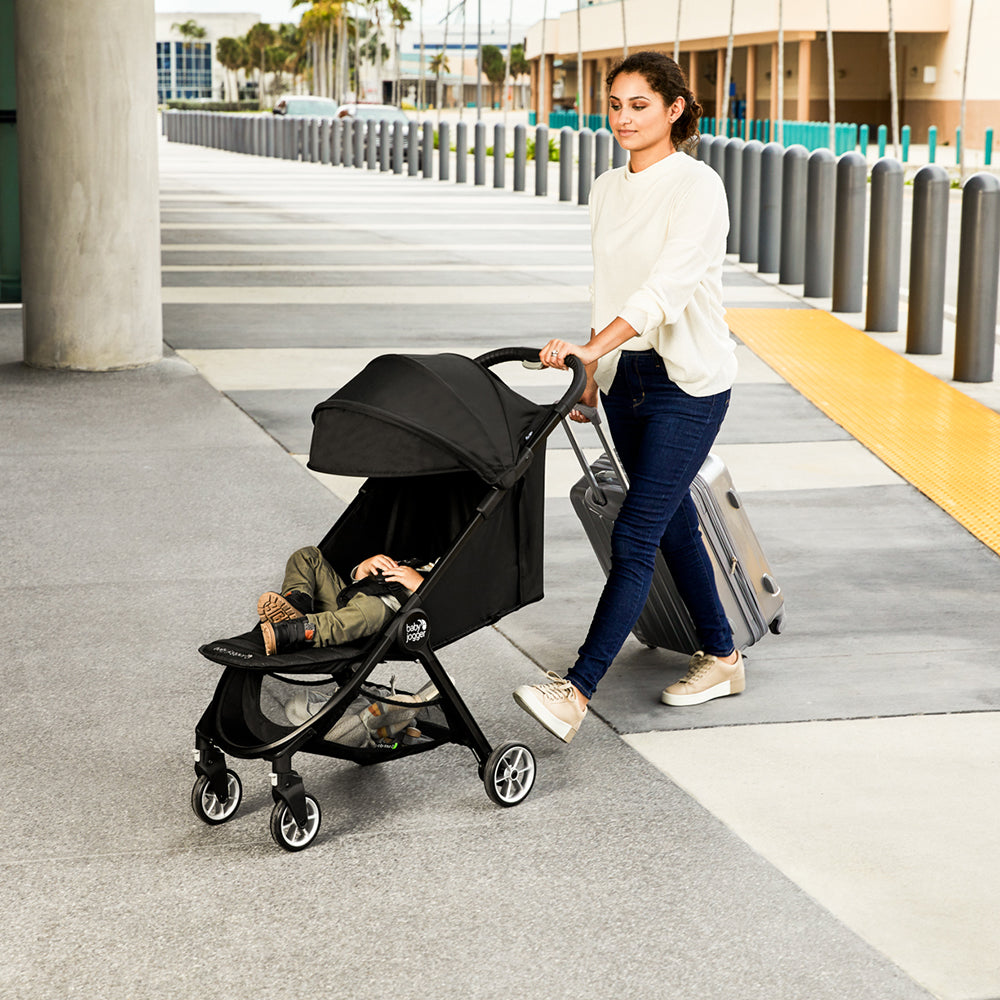 Is it worth getting a travel stroller?
While some families use standard strollers for everything, including travelling, a travel stroller comes in handy when you need it the most. Also known as a lightweight stroller, a travel stroller is your best friend when travelling with your baby.
They are lighter, collapsible into a more manageable size, and feature sun canopies. Many have optional thoughtful extras too, such as cup holders.
Here are seven perks you've been missing out on for a smooth ride if you are yet to get a travel stroller:
1. Easy to travel with on the plane
Travel strollers can fold small enough to fit in the overhead compartment of an aeroplane. This saves you the trouble of gate-checking it and the possibility of loss or damage.
A travel stroller is a great investment, as you can also use it as your everyday stroller.
2. Additional features
Travel strollers have features that make them perfect for travel. These include large sun umbrellas that shield babies from the sun's damaging rays and storage baskets that are useful for holding toys, changing clothes, and refreshments.
Understandably, families who want to make the most of their trips are increasingly opting for travel strollers due to their numerous benefits.
3. Reclinable
Since infants cannot sit up on their own, they will spend a lot of time resting in the stroller, making a reclining seat essential. Fortunately, most, if not all, travel strollers come equipped with a reclining seat.
When your child starts walking and wants to explore the world on their own, having a stroller nearby to let them nap after a long and active day is a lifesaver. No more rushing back to the hotel for nap times. Simply recline the seat, and you are good to go.
Tip: When buying a travel stroller, get one appropriate for your child's age and size. Some are designed for toddlers, while others are best for infants.
4. Portable
When making travel strollers, manufacturers consider that you would primarily use them while you're on the road. For this reason, portability is an important consideration throughout the design process.
When not in use, a travel stroller can be folded quickly and easily to take up little space. This lets you put it in the boot of your car while still leaving room for additional luggage.
5. Allows you to bring additional items effortlessly
In addition to strolling the baby, a travel stroller features a compartment at the bottom where you can keep other small items. The space is perfect for storing your carry-on luggage or travel essentials.
Some travel strollers also have cup holders for your coffee. It is quite thoughtful because parents need their daily cup of coffee to ease the never-ending tedious job.
6. Doubles as a trolley
Kids are naturally clingy and sometimes just want to be held and cuddled. When this happens, you can use your stroller as a trolley for your travel baggage while you cuddle with your child.
7. Prevents stiff back and sore arms
Carrying your child all day can easily lead to stiff backs and sore arms. Especially when you are on vacation and want to tour different cities, carrying your child will quickly tire you out.
Investing in a travel stroller saves you the trouble of carrying your infant while ensuring your precious baby's comfort.
Parting shot
Travel strollers are well worth the hype and are an excellent investment for families who enjoy travelling. If you already find the regular stroller a great addition to your baby gear, then a travel stroller will be life-changing.